Brighter Graphics Limited
Digitising Construction
SINCE 2003
Brighter Graphics: A Leader in Construction Digitization
Brighter Graphics has been a pioneer in the construction digitization industry since 2000. In 2003, we became the first official Bluebeam reseller in the UK, and we have since become the largest Bluebeam reseller in Europe.
We offer a wide range of services to help our customers digitize their construction projects, from initial design to post-handover. Our team of experts can provide you with training, support, and implementation services for a variety of software products, including:
Bluebeam Revu
SketchUp
Bricsys
We are committed to providing our customers with the best possible service. That's why we offer a satisfaction guarantee on all of our products and services.
If you're looking for a partner to help you digitize your construction projects, contact Brighter Graphics today. We'll help you get started on your journey to a more efficient and productive construction process.
Here are some of our recent accolades:
Bluebeam: Brighter Graphics Group becomes the largest Platinum Partner in the UK & Europe

(2023)
Bluebeam: Highest User Growth EMEA

(2022)
Bluebeam: Largest UK Platinum Partner

(2022)
SketchUp: Largest Annual Growth UK

(2022)
Bricsys: Best New Partner

(2022)
These awards are a testament to our commitment to providing quality service, training, and support to our customers. We are also a recognized leader in the adoption of new construction technologies.
We are excited to continue our journey of innovation and help the construction industry build a better future.
Heres a short timeline on how we got here.
2003 - THE JOURNEY BEGINS
...
..
.
2022 - A Year of Achievements
At the beginning of the year the company is acquired by Brixtech Holdings, lead by a vastly experienced management team, with decades of experience within the AEC industry.
Brighter Graphics becomes the largest Bluebeam reseller in the United Kingdom and Ireland (UK&I).

The company registered the highest user growth in EMEA region for Bluebeam Inc, a testament to its commitment to a customer-centric focus. The company re-enforced its position as the largest Bluebeam Platinum Partner in the United kingdom and Ireland.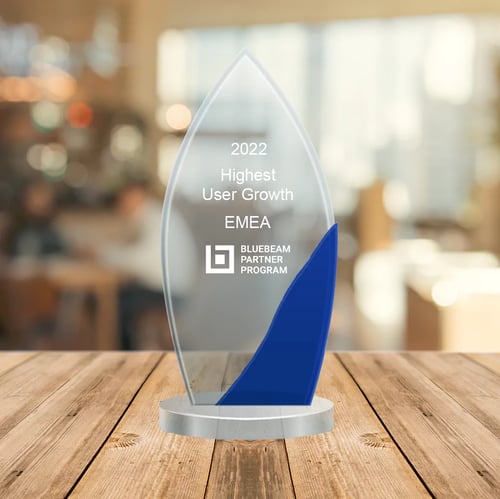 2023 - THE YEAR OF GROWTH - EUROPE & BEYOND
In April 2023, due to our customer-centric approach, Brighter Graphics Group, already the largest Bluebeam partner in the UK&I, expanded into mainland Europe with the acquisition of ATC PDF Advies B.V. in the Netherlands, becoming the largest Bluebeam Platinum Partner across Europe.
02. THE LARGEST BLUEBEAM PARTNER IN IRELAND
May 2023 - To serve its Ireland-based customers, Brighter Graphics sets up a local office based in Dublin, from where we can cater to our Irish clients even better.
Digitising Tomorrow: A Brighter Future for the AEC Industry & Brighter Graphics
Digital solutions must be applied coherently to all stages of the project lifecycle to streamline and optimise workflows from design to construction and post-handover. The digitisation of the construction industry necessitates collaboration among all stakeholders, including clients, architects, engineers, contractors, and the operations team. Brighter Graphics is your go-to partner for all software and training needs in the AEC industry.
Brighter Graphics has created and resourced the largest collection of resources for Bluebeam Revu, offering access to all of our customers, an extensive range of materials, including Tips-&-Tricks, Tutorials, Training Courses, How-to Guides, and much more, available to everyone. All for free.
We also have a YouTube Channel offering all things Bluebeam, including short videos and detailed videos elaborating professional workflows for quantity takeoff, estimations, etc.
For all your queries related to Bluebeam, BricsCAD, or SketchUp, feel free to connect with Brighter Graphics - Digitising Construction since 2003.